Get the IT Skills You WANT and Employers NEED
Get IT Certified
Show you can support wired and wireless networks across vendors and platforms. With CompTIA certification in hand, you'll be what they're looking for!
Explore CompTIA IT Career Pathways
IT Data Developer
IT Manage Service Providers
Explore your options and plan your future! Discover career path and experience level and the CompTIA certifications to get you there. Learn more >>>
CompTIA Programs
CompTIA IT Fundamentals Prep and Certification
This course is a great first step to a career in IT. Aimed to help students earn CompTIA IT Fundamentals Certification, this course covers hardware, software, networking, and cybersecurity topics. The IT Fundamentals Certification shows employers that you are comfortable with IT concepts and is a great starting point for more advanced certifications. Exam and materials are included.
The CompTIA IT Fundamentals Assessment is required prior to registering for this class. Students must score a 120 or higher. Please complete the assessment using this link. Please note: Only your FIRST ATTEMPT will count. If you do not score a 120 or higher, it is recommended that you take Computer Basics first.
CompTIA A+ Prep and Certification
CompTIA A+ is the preferred performance-based qualifying credential for technical support and IT operational roles. A+ certified professionals identify issues and problem solve more effectively than those without certification. CompTIA A+ supports the ability to connect users to the data they need to do their jobs regardless of the devices being used. In order to receive the CompTIA A+ certification, candidates must pass two exams: Core 1 (220-1101) and Core 2 (220-1102) Successful candidates will have the knowledge of Hardware and Infrastructure, Security, Ops and Service, Software, and Data. Prerequisite: IT Fundamentals Certification or 9-12 months of experience in Hardware and Software.
CompTIA A+ Prep and Certification is eligible for G3 and FastForward Credential Funding
Credit for Prior Learning: Comp TIA A+: ITN 106 (Microcomputer Operating Systems) and ITN 107 (Personal Computer Hardware and Troubleshooting). See Credit for Prior Learning below for more information.
CompTIA Network+ Prep and Certification
In this course, we will cover the Network + exam objectives from the following five domains Network Architecture, Network Operations, Network Security, Troubleshooting, and Industry Standards. With this highly interactive course, you will learn the essentials needed to successfully pass the CompTIA Network + Exam. You will concentrate on the configuration, management, and troubleshooting of common wired and wireless network devices. In addition, the following skills will be covered in preparation, defining the appropriate cabling and device technologies, determining the network troubleshooting methodology and appropriate tools, and examining physical security and common attacks while securing wired and wireless networks. Exam and materials are included. Prerequisite: CompTIA A+ Certification.
CompTIA Network+ Prep and Certification is eligible for G3 and FastForward Credential Funding
Credit for Prior Learning: Comp TIA Net+: ITN 101 (Introduction to Network Concepts) NOTE: Network + certification (ITN 101) cannot be substituted for any other courses in cyber or IST. See Credit for Prior Learning below for more information.
CompTIA Security+ Prep and Certification
This course is the primary curriculum you will need to take if your job responsibilities include securing network services, devices, and traffic in your organization. Today's job market demands individuals with demonstrable skills, and the information and activities in this course can help you build your computer security skill set so that you can confidently perform your duties in any security-related role. During this class, you will be able to identify the fundamental components of information security, Analyze risk, Conduct security assessments to detect vulnerabilities, Implement cryptographic solutions in the organization, plus much more. Materials and Exam included.
CompTIA Linux+ Prep and Certification
This course helps to build the necessary skills of an IT professional to configure, monitor, and support servers running the Linux operating system in wide demand in industry. Students will acquire the knowledge required to configure, manage, operate, and troubleshoot a Linux environment, using security best practices, scripting, and automation. This course is taught with CompTIA provided materials by an industry-experienced instructor in preparation for the CompTIA Linux+ XK0-004 test and certification. Students are required to have basic computer skills and familiarity with computer operating system and network concepts prior to taking this course. Previous scripting experience will be very helpful to the student. Prerequisite: CompTIA A+ and CompTIA Network+
CompTIA CySA+ Prep and Certification
As attackers have learned to evade traditional signature-based solutions, such as firewalls and anti-virus software, an analytics-based approach within the IT security industry is increasingly important for organizations. CompTIA CySA+ applies behavioral analytics to networks to improve the overall state of security through identifying and combating malware and advanced persistent threats (APTs), resulting in an enhanced threat visibility across a broad attack surface. It will validate an IT professional's ability to proactively defend and continuously improve the security of an organization. CompTIA CySA+ meets the ISO 17024 standard and is approved by U.S. Department of Defense to fulfill Directive 8570.01-M requirements. It is compliant with government regulations under the Federal Information Security Management Act (FISMA). Prerequisite: CompTIA Security+
CompTIA CASP+ Prep and Certification
CASP+ is an advanced-level cybersecurity certification covering technical skills in security architecture and senior security engineering in traditional, cloud, and hybrid environments, governance, risk, and compliance skills, assessing an enterprise's cybersecurity readiness, and leading technical teams to implement enterprise-wide cybersecurity solutions. CASP+ is compliant with ISO 17024 standards and approved by the US DoD to meet directive 8140/8570.01-M requirements. Prerequisite: CompTIA CySA+
Download the Information Technology (IT) Student Handbook
IT Certifications Guarantee to Interview
Upon successful completion of CompTIA and ITIL certification programs, individuals not currently employed in these fields will be guaranteed an interview with several IT companies. Our "guarantee to interview" opportunities with premier local employers are not only a great foot in the door for successful students, but most employers also offer additional training for students/employees once they are on board at their organization.
Companies include:
Syntelligent Analytic Solutions, LLC
TeamLogic IT, Inc.
Raptics, Inc.
Tauran Management Group
Cardinal Technology Solutions, Inc.
Shenandoah Valley IT, LLC
Custom Computers | Winchester Wireless
Tech Team Solutions, LLC
Bluemont Technology and Research, Inc.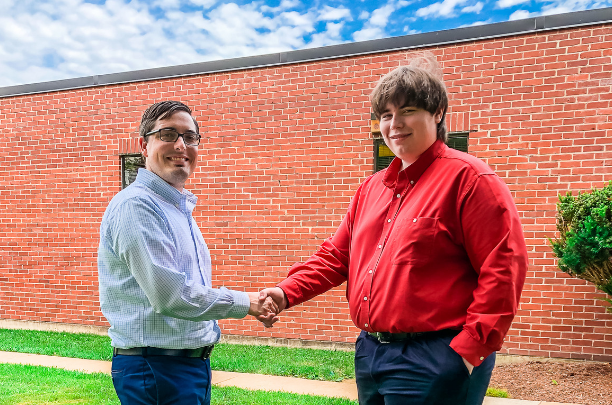 Student Success
"It's a subject I enjoy – I have always been around computers and I like fixing them," he says. "I'm hoping one day to get into large-scale networking and security for video games. This job will provide me with great IT experience." – Bradley Cute, IT Help Desk Associate Syntelligent Analytic Solutions, LLC; Learn more about Bradley's Story >>> IT Prep Courses Come with Job Interview Guarantee
"As soon as I got that CompTIA A+ on my resume, I got all kinds of job offers. The doors just flew wide open." – Wendy Howard, IT Engineer, St. Charles Health System
Credit for Prior Learning
Laurel Ridge awards transfer credit to those who have successfully completed the following exams within five (5) years of receiving course credit equivalent:
CompTIA A+: ITN 106 (Microcomputer Operating Systems) and ITN 107 (Personal Computer Hardware and Troubleshooting)
CompTIA Network+: ITN 101 (Introduction to Network Concepts) NOTE: Network+ certification (ITN 101) cannot be substituted for any other courses in cyber or IST
CompTIA Security+: ITN 260 (Network Security Basics)
CompTIA Linux+: ITN 170 (Linux System Administration)
AWS Cloud Practitioner Certification: ITN 257 (Cloud Computing: Infrastructure and Services)